If you're reading this its because you, or someone you know, needs a stair lift. A stairlift goes by many names, including: stair chair, stairway chair,or chairlift. I've even heard the phrase stairway chair lifter (try saying that 10 times fast). However you refer to them, they all do the same thing: get you or your loved ones up and down the stairs safely. 
As part of your research, you probably came across two names with respect to the stair lift industry. Those two names are Acorn Stair Lifts and Bruno Stair Lifts. I'm sure you've seen the commercials that show a senior slowly going up and down their staircase, then you notice a quick transition to a couple sitting down at a table with a sales person. Everyone is happy and secure. They do their best to instill these values of security and savings. However, what you see in those thirty seconds is merely a snapshot highlight reel. 
In an effort to help you, I developed a comparison list in five different categories, so you can navigate which company would be the best fit. Oh, and spoiler alert, there is a third option listed at the very end that just may surprise you! Without any more delay, I present to you, my comparison list.
Pricing: NEUTRAL
Both Stair Lift companies come in around the same price point. For a basic straight stairlift you can expect to pay around $3,500 to $4,000.
Acorn's flagship straight lift is the Acorn 130, whereas Bruno relies heavily upon their Elan straight stair chair. Upgrade options are available on the Acorn 130 for an additional cost such as: Hinged Track and a Heavy Duty option. Various promotions exist from time to time with each company, however you can expect to not be far off from the price range mentioned above. Note: Custom Curved Lifts typically start around $10,000, and that is a normal beginning price point from both camps. An important fact to be aware of is that while Bruno is custom made to your staircase, Acorn implements a modular track system that is not 100% custom. 
Warranty: Advantage BRUNO
Bruno comes in as the clear winner with this one. It's really not even close. Bruno offers the following manufacturer's warranty on all their lifts: 2 years on parts and lifetime on the motor and gearbox. As of October 2015, Acorn condensed their warranty to a period of 1 year on parts, and 1 year on motor and gearbox. Please be aware of fine print as most warranties are limited, and do not include cost of service-related visits. Extended warranties are sometimes offered at an additional cost, but usually never worth the extra money. 
Country of Origin: NEUTRAL
Bruno is for the "most part" made in the USA. I say "most part" because while a majority of components are either fabricated or assembled in the USA, there are still other parts that are imported from different countries. This should not be surprising, simply because there are ways to maintain integrity of the product while saving money at the same time. Acorn is manufactured in the United Kingdom, as are a majority of stairlift companies in the United States. In my opinion, it doesn't matter where a product is made, so long as it is made well, and the company selling it will back it up with good service and warranty. 
Longevity of Company: Advantage  BRUNO
                                                                                                                                                                                                                                                              If longevity of the company is important to you, and you hypothetically found yourself at Churchill Downs, then Bruno might be the horse you would want to put your money on. While Acorn has been around for exactly 26 years, Bruno edges out with 30+ years in service as a manufacturer. It should be noted however, that Acorn boasts "Every eight minutes an Acorn Stair Lift is installed around the world." It's safe to assume that although Bruno has been around longer than Acorn, Acorn has a broader reach while Bruno has made most of it's impact in the United States. 
Product Line: NEUTRAL
Both Acorn and Bruno offer only one main stairlift in each of the following categories: Indoor Stair Lift, Outdoor Stair Lift, and Curved Stair Lift. Acorn offers the Acorn Superglide 130 for their indoor lift, which was recently upgraded to a different color scheme for upholstery and design. The Acorn 130 is their outdoor lift which is outfitted to work in the elements. The Acorn 180 is their curved lift. Bruno offers the following lifts: the Elan stair lift for their indoor option, the Bruno Elite stair lift for their curved, and the Elite outdoor stair lift. I used the phrase "one main stairlift" because Bruno technically has two options for their indoor unit: the Elan and the Elite. The Elite, however, is their original stair lift model, and is almost never the option they push. Bruno also has a full line of other products such as vehicle lifts and platform lifts. Acorn has chosen to focus on what they do best, stair lifts. 
Final Results: Advantage and Winner: BRUNO 
While Acorn and Bruno remained neutral on the following categories: Product line, Country of Origin, and Price, we see Bruno edging out Acorn on the following categories: Warranty and Longevity of Company.
BUT WAIT… THERE'S MORE!!!
But do you remember me telling you that there is a third option? Well, you may be very interested to know that there are stair lifts that you can in fact install all on your own. Or, if you have a handy friend or family member, you can have them do it for you. You will save quite a bit of money from what an Acorn stair lift would cost or even what a Bruno Stair lift would cost. We make sure that you get your installation instructions ahead of time and when it ships you also get tracking so you know when it will be showing up at your door. Most installations take about 3-4 hours and best of all you still have warranty! To learn more, simply click on the photo below and you will see what options are currently available.
DIY Stair Lifts – Do It Yourself Stair Lifts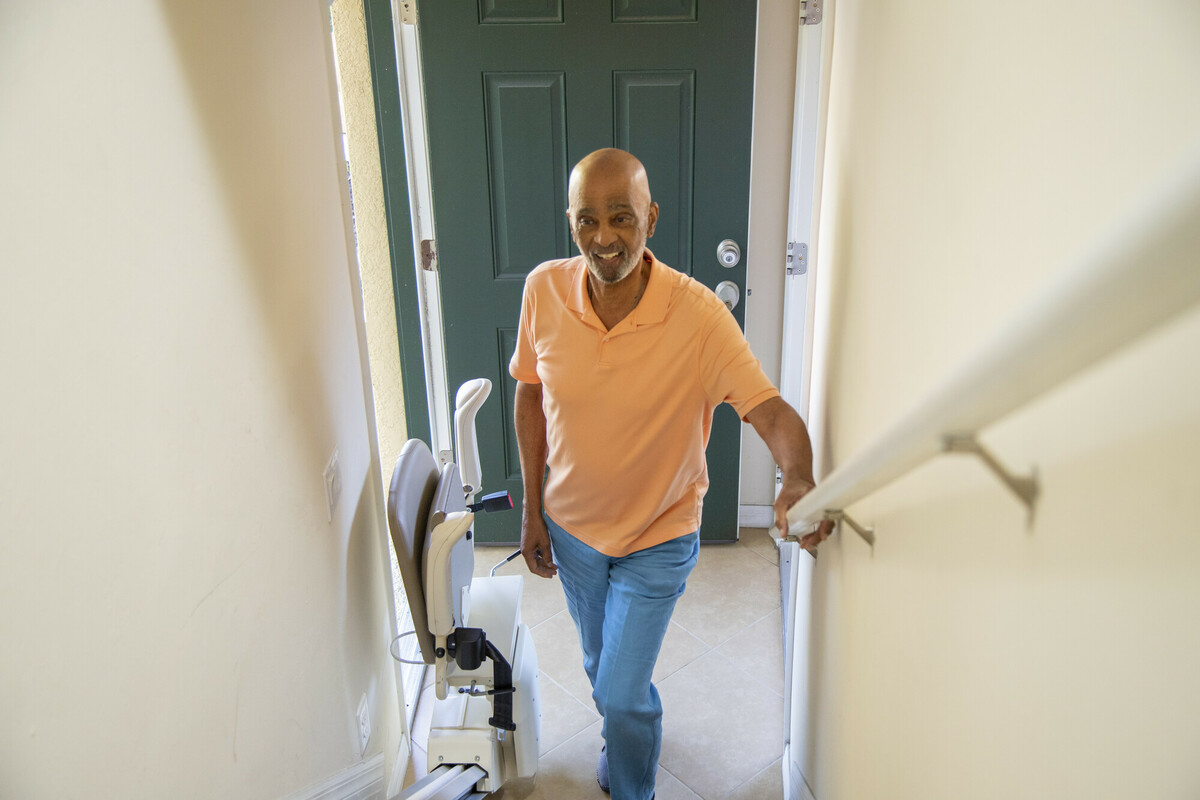 WANT MORE INFORMATION? FILL OUT OUR CONTACT FORM BELOW AND WE'LL BE HAPPY TO ASSIST YOU!
[fusion_form form_post_id="2246″ margin_top="30px" margin_right="" margin_bottom="" margin_left="" hide_on_mobile="small-visibility,medium-visibility,large-visibility" class="" id="" /]