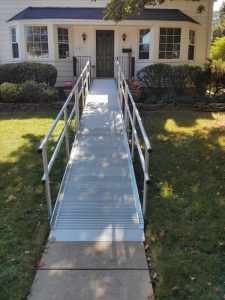 These simple gift ideas for elderly or disabled people in your life can make Christmas shopping much easier to manage…
The holidays can be stressful as you make your way down your shopping list in time for the big day. Home Access Products has some suggestions on buying for the elderly and disabled, designed to make your life – and theirs – easier.
There are many life conveniences that most of us take for granted. The elderly and disabled may face new physical obstacles to these conveniences. For instance, something as simple as front door access to a home or taking a bath or shower may present logistical challenges. Below are some common solutions.
Gift Ideas for Elderly and Disabled People
Bellavita Bath Lift – Sometimes a simple soak in the tub can make all the difference in your day. It is now easier for the elderly or disabled to navigate the tub again. It's also easy to operate and install. You can read all about the benefits of the Bellavita Bathtub Lift.
Wheel Chair Ramps – For someone newly confined to a wheelchair or scooter, basic mobility and access to everyday locations becomes a challenge. Steps and front doors can become barriers. A modular wheelchair ramp from our sister site Ramp Now, provides a way to restore that access and mobility. Take a look at what options might fit your home.
The SL600 Pinnacle Premium Stair Lift – A two story home can present a significant challenge as someone loses their mobility. There are practical solutions that come into play before moving. The SL600 Pinnacle Premium stair lift is one such option. You can read all about it on our sister site, stairliftnow.com.
Prowler 3310 Three Wheel Mobility Scooter – A scooter is ideal for someone who just isn't able to cover distances walking any longer. This heavy-duty model sports a 50' turn radius, making it a feasible option indoors or out. Read about the other benefits that the comfortable Prowler 3310 scooter offers. This is a great option for those whose mobility may be on the decline.
What's Right for Your Situation?
The important thing to remember is there are options when it comes to gift ideas for elderly and disabled people. You can find the products and innovations that are on the market for making sure the loved ones in your life are able to enjoy the same freedoms they've always enjoyed.
For more ideas that are specific to your specific situation, please peruse the options from all of our sites: Home Access Products, Ramp Now and Stair Lift Now.