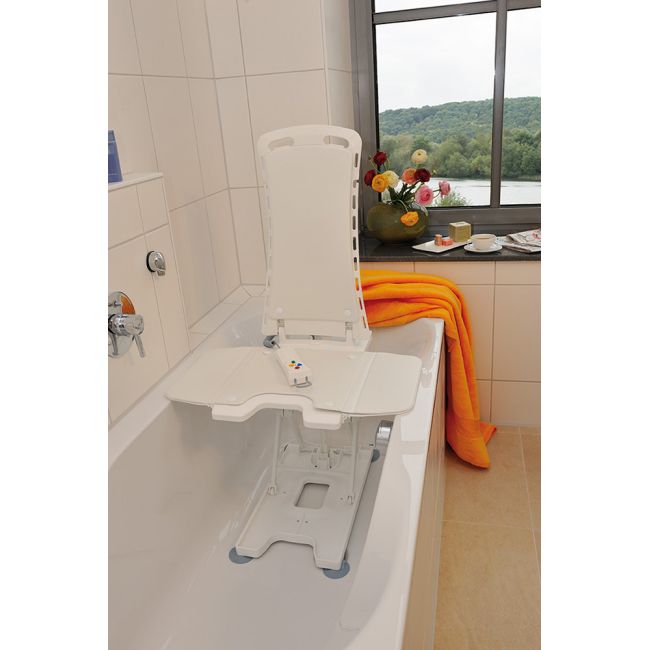 Bath lifts are designed to substitute walk on baths, and they can help the disabled and elderly get in and out of the bathtubs easily and safely. Nowadays, there are numerous bath lifts from as a number of brands and Bellavita is one of the most popular. This article looks at what Bellavita has to offer to help you make an informed decision before purchasing.
Weighing only 9.3 Kgs (or 20.5 pounds), the Bellavita bath lift is one of the lightest bath lifts on the market. It is also among the lowest, at 2.3 inches. The bath lift reaches a maximum height of 18 inches, making it ideal for those who have a deep tub. The bath lift is easy to setup, and the hand controls are water resistant. It also reclines up to 50 degrees at its lowest position.
What makes the Bellavita easy to assemble and disassemble is its two-piece construction. When not in use, the chair can be easily folded down which saves you storage space. It comes with a padded seat and backrest for additional comfort as well as well as washable covers in a standard white color. The Blue and Gray upholstery sets are available at an additional cost. It has a Three year guarantee on the Hand control (which also houses the battery), the frame, the motor, and the charger.
Pros of the Bellavita Bath Lift
Sturdy design and built to last long
It is particularly easy to set up
The controls are easy to use
It is easy to clean and maintain
It is foldable, thus saving space in storage
It can go very low or very high, and it's excellent for deeper tubs
The enclosure of the Bellavita is waterproof, and the battery unit is easy to recharge.
Cons
It is not ideal for very tall individuals unless the tub is long
The setup process might be easy, but the instruction manual is somewhat general with assembly.
It makes can emit more noise than normal when an individual is using it that is close to weight capacity.
New users may find the hand control somewhat of a challenge to use depending on the learning curve that is present.
Safety
The Bellavita is quite reliable and safe. It doesn't lower the user unless there's adequate power to lift them out of the tub. The base of the bath lift contains easy to release suction cups that provide excellent stability when the user is inside a tub.
Comfort and Storage
Thanks to its two-piece construction, the Bellavita can be easily assembled/disassembled for transport or storage purpose. It is also able to support a maximum weight of 308 pounds and consists of washable covers that come in various colors. Its padded backrest provides extra comfort and also comes with an optional headrest. It can be easily folded in order to save space during storage.
When it comes to usage, you only have to charge the unit for at least 4 hours before the initial use.
All in all, the Bellavita is a convenient and reliable bath lift for anyone who would wants a safe and affordable alternative to walk in bath tubs.
Where Can We Buy The Bellavita Bath Lift?
At Home Access Products, we offer the best prices and most reliable service for all bath tub lift products. Please click the link below to check out the Bella Vita.
'